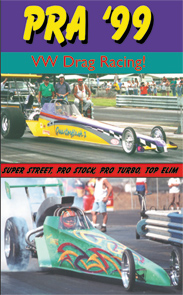 PRA '99! The History of VW Drag Racing
PRA '99 covers a lot of the action in the heads-up Volkswagen drag racing classes and the unlimited Top Eliminator class, as well as selected passes from Super Gas and Pro Eliminator. There is also an extensive interview with Mark Schley(of the Schley Brothers), during which he explains just what it took to campaign their Volkswagen drag racing cars all over North America during the '60's and '70's.
The Schley Brothers worked night and day to set 19 national records in their classes, and they were generous enough to share with us some very rare footage(circa 1973?) of their race cars. We can't thank them enough for letting us have a glimpse of how it was during the heyday of Volkswagen drag racing. You can hear the long version of their interview, via streaming audio, here.
In Super Street action, you'll see Shawn Geers and Dave Perkins battling it out for the most competitive heads-up points championship in VW drag racing. In 1999, Dave set a record that is likely to stand for some time.
The Pro Stock title chase got off to a rocky start in Phoenix, where marginal track conditions took a heavy toll on the participants. You'll see close-up footage that clearly documents what happens when metal meets concrete at 120 miles per hour.
In the unlimited Top Eliminator class, records fell like rain in 1999, as racers from Hawaii and California took import drag racing to new levels. The first-ever East vs. West contest saw Florida funny car driver Ken Fisher, of Fisher Buggies, matched up against multiple full-length dragsters.
His main competition was Scott Lauffer of VW Paradise, who was setting new records at nearly every Sacramento race he entered. It looked like he had it all sewed up going into the East vs. West race. However, on that very same weekend, the Quarterflash II crew from Hilo, Hawaii, stepped up to the plate and hit a home run.
Check out all this racing action, plus a driver profile and on-board camera with "Muffler" Mike Sheldon, in PRA '99!

---
---
Web Design by Bryan Robinson SR. of HOTSHOTS Photo-Art and Publishing and Ocean Street Video
Copyright &copy Ocean Street Video 1997, 1998, 1999, 2000, 2001 all rights reserved.