OCEAN STREET VIDEO&reg
Racer Profile
---
Quarterflash II
---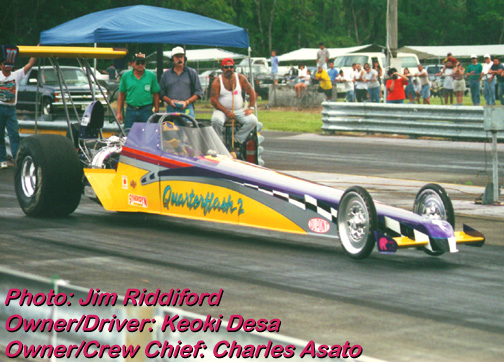 This Hawaiian digger has run a [email protected] mph, with 30+ lbs. boost and no nitrous. The 60 ft. time on that pass was 1.07 seconds. The powerplant is a 3445cc Pauter race block with Pauter AA aluminum rods and a Turbonetics turbocharger. Alcohol fuel is pumped through a Waterman mechanical injection system with a Hillborn mono valve.


Boulton Racecars in Oklahoma built the 230" chrome moly tube chassis. The powerglide 2-speed transmission was heavily modified by Mike's Transmissions in Lancaster, California. The rear end is a Ford 9", reworked by Mark Williams.


Quarterflash II is based in Hilo, Hawaii, which is on the big island. The only dragstrip is in Hilo, and it's a county-owned track that is only open a few days a month. Because of this limited track access, it's taken Charles and Keoki nearly 8 months to get 30 passes on the car.


Pushing a flat-four engine into the mid-7's takes experience, and these guys have it. They originally campaigned the well known Quarterflash speedster, which was a Porsche body shell with a turbocharged VW engine underneath. It ran a 9:[email protected] mph on a torsion-bar rear suspension.


In this partnership, Keoki has done the driving, while Charles has been the crew chief. Of course, they both wrench on the rail. Keoki works at Bears Racing in Hilo. Charles is an automotive painter by trade, and he's been putting turbos on VW's for over 8 years.


With it's entry into the flat four sub-7:30 e.t.'s, Quarterflash II is walking on hallowed ground. Only Scott Lauffer, Dave Folts, and Tom Schuh have been able to break this mystical barrier, and it took them years to do so. All indications are that Keoki Desa and Charles Asato are a force to be reckoned with. Stay tuned for the results from their next race at the end of May. You can reach the Quarterflash crew at: [email protected]
HILO, HAWAII 5/30/99 - The Quarterflash 2 digger just ran a 7.16 second pass, and backed it up with a 7.17 second pass. This broke the old VW Paradise record of 7.17 seconds. Hot VW's has made it an official record; the timeslips will be posted here shortly for your perusal. The 60 ft. time on the record pass was 1.036 seconds. There is no 1/8th mile e.t. info available because the track has no timers for 1/8th mile racing. Congradulations to Charles and Keoki!
---
---
Web Design by Bryan Robinson SR. of HOTSHOTS Photo-Art and Publishing and Ocean Street Video
Copyright &copy Ocean Street Video 1997, 1998, 1999, 2000, 2001 all rights reserved.