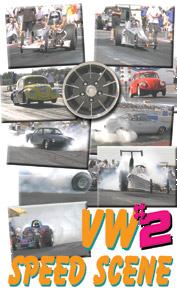 Super Gas Special!
VW Speed Scene #2 covers the first two events on the 2002 Pro Racing Association tour. You will see all the heads-up professional classes, including Super Street, Pro Stock, Pro Mod, and the Top Eliminator dragsters.
There is also plenty of Der Renn Kafer Cup drag racing, which features some of the cleanest street VW's to ever to hit the drag strip. These cars must be visually perfect, as they are judged equally on both appearance and performance.
There is a lot of street car vs. race car action in the Super Gas 11.90 index class, where the first 16-car field in the history of VW drag racing goes off at the Sacramento Bugorama. There is also complete coverage of that class running at the Phoenix Bug-O-Rama, plus the classic VW engine blow contest that Motion Productions holds every year.
In addition to all that quarter-mile action, you'll get the tech lowdown on three-angle valve jobs from A.J. Sims, of www.lowbugget.com fame. Next is a visit to the Primedia chassis dyno, for the first VW Trends Dyno Day. Overall winner Robert Hemphill opened up the decklid to his turbo car, and went over his plans for installing water injection on his ride. Check this car out!
If all that wasn't enough, watch as VW Paradise lays down the first 200 mph pass ever made by a four cylinder car. Wow!

---
---
Web Design by Bryan Robinson SR. of HOTSHOTS Photo-Art and Publishing and Ocean Street Video
Copyright &copy Ocean Street Video 1997, 1998, 1999, 2000, 2001 all rights reserved.