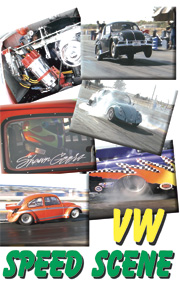 The Pro Mod Class: Turbo vs. Nitrous!
VW Speed Scene is the first in a new series of air-cooled Volkswagen drag racing videotapes. This new format features the best of both street cars and race cars, all presented together in one video.
Coverage includes the last two events on the 2001 PRA tour, several VW vs. import passes from Bakersfield, and a couple of great interviews with Frenchy Dehoux and Allen Weiss. Frenchy is one of the show judges in the Der Renn Kafer Cup series, and Allen is a competitor in that same drag racing class. If you want to know what it takes to run in the DRKC, watch as Allen gives us a detailed look at his 12-second, EFI-powered street car.
The professional drag racing action in this video is similar to what you've seen before in the PRA videotape series. As always, it's narrated, with detailed graphics of the point standings. One of the highlights is the Pro Mod class, which really took off for 2001. It's turbo vs. nitrous, which is the best?
The DRKC drag racing is handled in the same way as the RKC 2000 videotape; all passes from both the fall Sacramento and Las Vegas races are included, plus a quick look at the pre-race gathering at the host hotel in Vegas. 2001 was a great year for street cars at the track, be sure and check this out!

---
---
Web Design by Bryan Robinson SR. of HOTSHOTS Photo-Art and Publishing and Ocean Street Video
Copyright &copy Ocean Street Video 1997, 1998, 1999, 2000, 2001 all rights reserved.