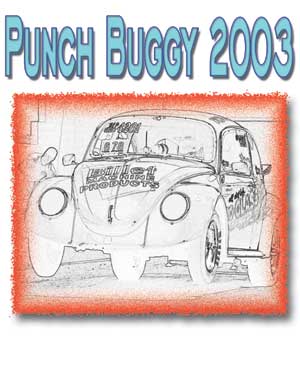 The Punch Buggy, East Coast Racing Action!
The Punch Buggy is one of the top two drag racing events on the east coast. There are 5 classes of bracket racing, most of which are 1/8th mile. The competition is every bit as tough as what you see on the west coast!
Race coverage starts out with the test 'n tune session in the morning, where it was shot from the starting line. That footage includes the tragic crash between Nathan Lee and Vinnie Fenech, wherein Nathan crossed over the center line in his beautiful ex-Ben Pada turbocharged sedan and t-boned Vinnie. Both drivers walked away, but there was a lot of damage to the cars.
After coverage of the half-time activities and the car show, the elimination rounds are shot from the grandstands. This coverage is similar to what you've seen in the HotVW's Drag Day DVD's.
Bonus footage includes oceanstreetvideo.com web trailers from the Scat Pro Stock Nationals in Texas, where Ron Lummus runs a phenomenal 8.41 in his new beetle, Cal-Look.com Video contest burnout footage, and a never-before-seen trailer from the last Sacramento Bugorama, featuring Kris Lauffer making a [email protected] mph pass! There is also a Dave Milcarek photo gallery from the Punch Buggy. Check it out!
While you are at it, download some of these free Windows background photos from the Punch Buggy.

---