Hot VW's Drag Day Street VW Race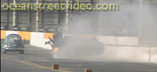 UPDATE 10/04: The seventh meeting of the HotVW's Magazine Drag Day featured a record-setting performance by Eric Calabrese in his Red Baron PRA Pro Mod car. You'll see him make a blistering [email protected] mph solo pass, amoung other things. Eric runs a full-on blow-thru turbo EFI powerplant that is controlled by an AEM fuel injection system. Other PRA Pro Mod cars in attendance included the nitrous-powered vehicles belonging to Dan Lawson and Ray Medrano. Low e.t. of the day went to Marty Staggs in his awesome nostalgia front-engined digger. Joe Maestas took his Der Renn Kafer Cup car deep into the elimination rounds, and nearly went home with all the marbles as well. There was a ton of wheelstanding action by Scott Bakken, A.J. Sims of LowBugget.com, and Joel Mohr, as well as a Berg vs. Berg family shootout that'll leave your head spinning. Be sure and check out Robert Hemphill of TurboBobEFI.com, you won't want to miss his blow-thru turbocharged EFI ride! There is 60 minutes of fast street car racing action on this DVD, plus another 40 minutes of drag racing from the Punch Buggy 2004 race at Atco, NJ. Way Cool!





UPDATE 4/03: The third Hot VW's Drag Day race in the continuing series had the quickest e.t.'s yet. Some of the best numbers that you'll see in this videotape were 6.45, 6.50, 6.60, 6.64, 6.66, and so on. Not bad for 1/8th mile drag racing! This event had the biggest crowds and the most race cars seen at an Irwindale VW event yet. The highlight of the race was the Top Eliminator class, sponsored by Gene Berg Enterprises. That final round of racing was made up of each of the 7 bracket/class winners, which included the Der Renn-Kafer Cup and the new bus class. The eighth spot in the final round was filled by the winner of a consolation bracket, which was made up of the runners-up in each of the classes. It gave everyone who made a final round of class competition a chance at the $1000 prize and mini-BRM trophy.
UPDATE: The second Hot VW's Drag Day race has now been documented on our latest videotape.
In July of 1983, the last Hot VW's Drag Day was held at the old Orange County International Raceway. The same people that ran that event have now started it up again. There are two Drag Day's scheduled at Irwindale for 2002, with more to come.
The first event of 2002 was a smashing success. Over 2,500 people packed the stands for a street car slugfest that featured some of the top names in the high-performance VW world. The list of industry heavyweights included some people that hadn't been seen at a VW race in years. In addition, the Der Renn Kafer Cup racers showed up with their outstanding Cal-Look sedans.
Ocean Street Video was trackside for all the action, which included some giant wheelstands, and the horrible wreck of the ex-Dean Lowry, now turbocharged, Pro Stock bug. This vehicle is a real junkyard dog, and it got loose going through the lights. It turned hard, rolled over, and shot cross-track at high speed into the wall. The engine broke loose in a ball of fire, and bounced back across the track. The driver was pretty beat up, but he walked away to race another day. The pictures on this page are video freeze-frames of the accident; those of you that have been to the Dairy Queen DKP events will remember seeing the car there last year, as it is street legal, even though it is a full-chassis car. This was also the same vehicle that Don Cossey wrecked at Firebird Raceway, as seen on the PRA '94 videotape.





This Drag Day event was the first eighth-mile VW race on the West Coast in many years, as all PRA races are a full quarter-mile in length. It was also an all-bracket event, but there was no shortage of excitement! Some of the boosted vehicles in attendance included Kris Lauffer of VW Paradise in his wicked 10-second nitrous convertible, Robert Hemphill in his 11.03 second blow-thru turbocharged daily driver, and "Muffler" Mike Sheldon, who has been dialing in the turbocharger on his rig this year.
This is 80 minutes of non-stop drag racing; it's similar to the Drag Day 3 videotape in that there is no narration, but in this case the only editing is a slow-motion version of the crash. You won't believe how hard that car hit the wall!