Multiple PRA points champion, hard core VW drag racer; he has survived brain surgery and a serious crash in the Fred Simpson fastback... this is The Spoiler, Andy Costello. He only showed up for one PRA race in 1998, but he was both the #1 qualifier and the race winner. This vintage 1989 footage will give you an idea of what he does to relax.
Deep in the heart of V-8 country is a crew of hard-core VW racers that are up for any kind of a challenge. When Austin racer Tom Funnell heard there was a burnout contest on the internet he fired up his 2110 and laid down a burnout that will leave you smelling rubber for a week! He earned himself a free PRA video and maybe won the contest as well.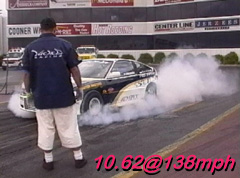 Check out this smoking burnout by Edward Bergenholtz in his '89 Honda CRX. Edward runs in the Quick-8 front wheel drive class, and he ran a

[email protected]

m.p.h. at the Goodtimes Import Challenge on 5/98. These kinds of record-setting passes are what makes import racing the sport of the future!




You never know what to expect at the Phoenix Bug-O-Rama. Here we see Rick Mortenson showing the VW factory reps just what the New Beetle is capable of. Do you suppose they will ever let him behind the wheel again? The fans sure hope so!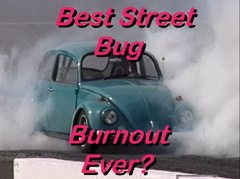 Watch Rick Mortensen of Motion Productions win his own burnout contest at the Phoenix Bug-O-Rama. Rick was the sole entrant in the contest, but that didn't stop him from boiling the hides off of his street tires is this spectacular display of excess horsepower. If you have a better street car burnout send it in and win a PRA videotape.