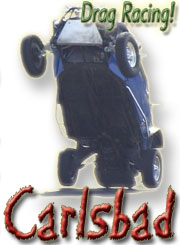 CARLSBAD Drag Racing!
This is the chronicle of VW drag racing at Carlsbad Raceway, circa ~1999 to the track closure in 2004. If you liked the original DKP Drag Day video from 1999, this DVD is going to rock your world!
Event coverage includes both VW Classic Weekend races(2003 & 2004), the VW vs. Import bracket race in 2004, and a whole bunch of miscellaneous sessions where the VW's were pitted against all kinds of cars.
This DVD features some of the best VW drag racing vehicles on the West Coast. You'll see the local VW Paradise crew, including both of the Lauffers, Johnny Leso, Phil Brown, Fat Mike, the Sloval, and a host of others defending their 'hood.
They do battle against a tough bunch of racers from So Cal, and even as far away as Ohio, when the Cal-Look.com Cornpanzer crew makes the trek to Carlsbad. Racers from the other side of the orange curtain include Lee Gong, Mike Lawless, the Palmer Boyz, Muffler Mike Sheldon, Scott Bakken, Mike Scott and his silver Autocraft oval, Scott Fetheroff in the blue choptop, the Evil Oval, and many others.
Extras on this DVD include an incredible slow-motion clip of the Kris Lauffer wheelstand that you see on the cover of this video, plus in-car camera footage with Joel Mohr, Scott Bakken, and Don Brown. The footage with Don was taken when he set the PRA Super Street record with a 10.15 pass. This is 110 minutes of action that you won't want to miss!
---
---
Web Design by Bryan Robinson SR. of HOTSHOTS Photo-Art and Publishing and Ocean Street Video
Copyright &copy Ocean Street Video 1997, 1998, 1999, 2000, 2001 all rights reserved.