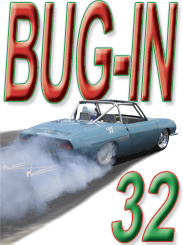 BUG-IN 32
2005 marked the return of the BUG-IN to So Cal, and it was a smashing success. The Volkswagen car show was huge, and the staging lanes were packed.
The nostalgia factor dominated this event. There was a party at the host hotel that brought out the biggest names in VW drag racing, from way back in the 1960's and 1970's. You will see 'em all together in the same room, this is history in the making.
But the real emphasis of this DVD is on the Volkswagen drag racing. Hundreds of cars were run through tech, some of which had not been seen on the drag strip for decades!
Rich Kimball has been putting on the HotVWs Drag Day races for a couple of years now. Those events have created a regular group of local L.A. racers who turned out in force for the Bug-in. They were hungry for some 1/4 mile VW drag racing, and they were not disappointed. Just think of this event as HotVWs Drag Day on steriods!
This is 144 minutes of hard-core Volkswagen drag racing that you won't want to miss!

---